Care Wyvern offers a full and comprehensive range of home care services including all aspects of Personal Care, Night Care, Cooking and Meal Preparation, Shopping and Domestic Assistance as well as Sitting & Companionship services. Staff can also provide the required levels of support outside the home accompanying Clients on trips, outings and even on holidays.
Whilst much of Care Wyvern's work is with the elderly, the company works with all sectors of the local population and offers expertise in many conditions including dementia, MS, Parkinson's & Motor Neurone Disease. Our social care team offers significant experience in palliative care, dealing with this in a supportive and sensitive manner.
Why Choose Care Wyvern?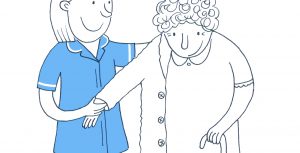 How to help isolated people tackle loneliness
Feeling isolated and lonely is an increasing problem across the country, affecting millions of people and putting more pressure on our already overstretched public services. Identifying those in need is not easy - even to those directly involved - and...