All humans are unique. We all have our habits, our likes and dislikes, and different things that we need to live comfortably. Every one of those needs is individual to each person.
All the care and support we provide at Care Wyvern is planned for each person, taking into account their requirements, no matter what their age or circumstances. We call this the 'Personal Support Plan'.
People with learning disabilities should lead full and rewarding lives, but may need a degree of support with some aspects of daily life. This support may include assisting with everyday personal needs, or help in their home. Care Wyvern can be the final 'piece in the puzzle' which allows people to enjoy social situations that may otherwise be extremely difficult.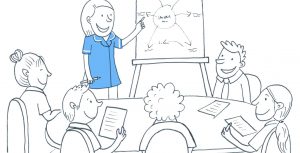 A Jam packed week at Care Wyvern
We have had a jam packed week at Care Wyvern, what with planning the Health and Care Show at Orchard Shopping centre in Taunton, to working with new applicants and our new team of Key Workers ( keep an eye...