Physically disabled people have enjoyed more rights in recent years, reducing discrimination in many aspects of their life. This includes health, education, employment, housing, becoming parents and access to goods and services in general.
"Our Health, Our Care, Our Say" (Department of Health, 2006) confirmed that people want support when they need it, and they expect it quickly, easily and in a way that fits into their lives.
Care Wyvern can assist those with physical disabilities with whatever help they require to stay at home.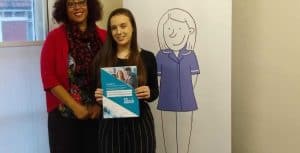 Introducing Holly, Administrative apprentice extraordinaire
A big congratulations to Holly who has just joined Care Wyvern as an Apprentice Administrator. Holly recently decided that the 'traditional' college route wasn't for her and chose to look for an apprenticeship. Holly is pictured with Care Wyvern's Business Development Manager...