Physically disabled people have enjoyed more rights in recent years, reducing discrimination in many aspects of their life. This includes health, education, employment, housing, becoming parents and access to goods and services in general.
"Our Health, Our Care, Our Say" (Department of Health, 2006) confirmed that people want support when they need it, and they expect it quickly, easily and in a way that fits into their lives.
Care Wyvern can assist those with physical disabilities with whatever help they require to stay at home.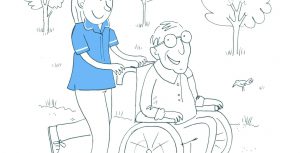 Home care is not a 9 to 5 Job
Are you looking for a 9 to 5 - Monday to Friday job - then this may not be the job for you . However, if you want to help combat loneliness, provide comfort and make someone smile at each...