The Care Awards 2017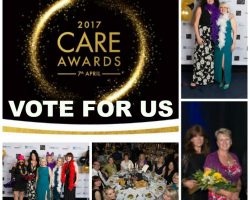 The annual Care Focus Care Awards will be held on Friday 7th April 2017 at Wellsprings Leisure Centre in Taunton.
This will be 10th year of Care Focus running this important annual event and Care Focus South West hope to have even more nominations this year.
The awards are open to all individuals involved in care, support, health and housing either employed or voluntary. All entries are treated confidentially.
There are 12 categories for nominations:
New to Care Award
Outstanding Volunteer / Unpaid Carer Award
Unsung Hero
Outstanding Ancillary Worker
Outstanding Commitment to Learning and Development
Quality Specialist Award
End of Life Care Award
Excellence in Leadership Award
Outstanding Care / Support / Healthcare worker – Tim Catley-Day Award
Outstanding Care Team
Care Organisation of the Year
Outstanding Contribution Award
We are honored to have been nominated as a finalist in 2013, 2014 and 2015. In 2014, Louisa Evans, one of our qualified carers won the Tim Catley-Day Award. We are all very proud of all our carers achievements and of the professionalism they show our clients.
Nominations are now being taken so please do take the time to nominate the person you feel goes that extra mile in your life.
You can nominate using the form below as well as visiting the Care Focus website. Nominations close on 18th November 2016.
care-awards-nomination-form-2017-form

18.10.2016