Care Wyvern support The Alzheimer's Society with Cupcakes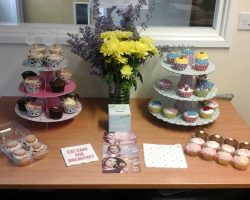 Today the girls in the office baked and brought in cupcakes to support and raise funds for The Alzheimer's Society on their Cupcake Day.
When a person with dementia finds that their mental abilities are declining, they often feel vulnerable and in need of support and reassurance. We believe by arming the local community, for example shopkeepers, hairdressers, bank tellers etc with knowledge and information they need to assist a person with Dementia with their daily chores leads to a more understanding community.
Therefore, we are hosting Dementia friends Awareness Session, offering knowledge, and information in a relaxed informal way in the offices, inviting our Clients, Carers, and the Local Community.
10.10.2016