UK Homecare Association Manifesto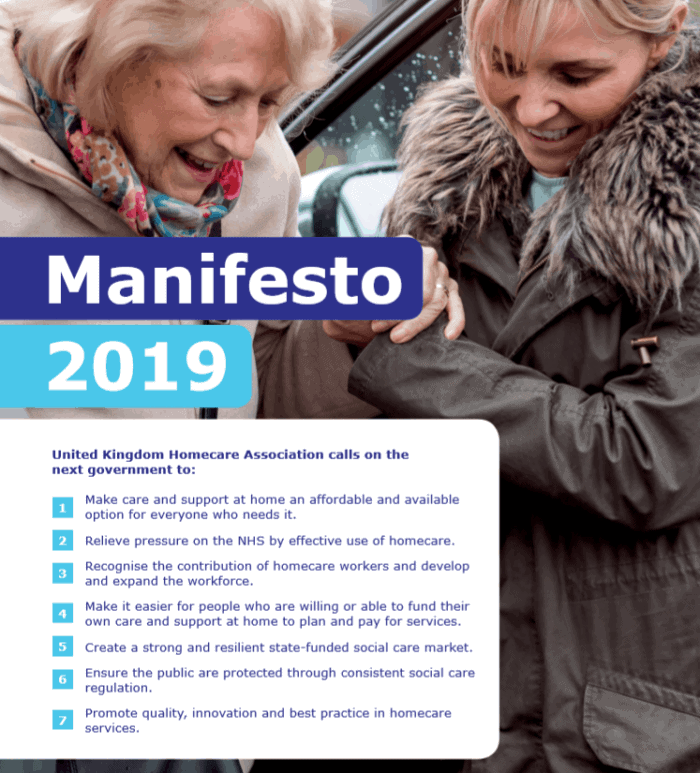 With another General election called for Thursday 12th December, the next elected government has a unique opportunity to place the future well being of older and disabled people at the heart of our nation's vision for a society which values every citizen.
The UK Home Care Association's manifesto, available to download here, urges political parties, and candidates standing for election, to make a commitment to ensure that all older and disabled people needing support and care in their own homes in order to remain healthy and independent, are able to access it easily and affordably, while also enabling family members to combine caring responsibilities with family life and employment.
The manifesto is made up of 7 main points:
1: Make care and support at home an affordable and available option to all who need it
2: Relieve the pressure on the NHS by effectively using home care
3: Recognise the contribution of homecare workers and develop and expand the workforce
4: Make it easier for people who are willing and able to fund their own care and support at home to plan and pay for services
5: Create a strong and resilient state funded social care market
6: Ensure the public are protected through consistent social care regulation
7: Promote quality, innovation and best-practice in homecare services
Here at Care Wyvern, we support this manifesto by UKHCA whole-heartedly. Domiciliary care is vital for so many, and needs to be treated as a priority by our next government, to ensure people continue to receive the care they need.
20.11.2019