Covid 19 Update – 29th April 2020
In line with the extended period of "lock down", the office opening hours remain at 09:30 – 15:30 Monday – Friday. On-call continues to be covered outside of these revised times. The office is also being manned by a skeleton staff.
As an organisation we are adhering to the government guidance, we are also taking our responsibilities under our infection control measures very seriously. Should Care Wyvern be informed that there is a confirmed case of Covid – 19 we will be transparent in reporting this. We are also pleased to say that we have sufficient supplies of gloves and aprons.
The advice from the Local Authority and the government regarding PPE has recently been updated, electronic links below. The SMT has used these pieces of guidance to inform the organisations PPE guidance to staff, please see appendix 1. Care Wyvern will continue to monitor all information released by the government and local authority and use this data to inform practice, police and procedure to keep our clients and staff as safe as possible.
We would like to thank all of our clients for their support and patience. It must be recognised that Care Wyvern is very fortunate to have a staff team that are dedicated to their role, their clients and the company and continually go the extra mile to carry out their duties. We are so proud of our team and cannot thank them enough.

The risk to the UK continues to be high.
Below are links to the Government's current guidelines and advice;
https://assets.publishing.service.gov.uk/government/uploads/system/uploads/attachment_data/file/88129 6/Domiciliary_care_guidance_final.pdf 27/04/2020
https://ssab.safeguardingsomerset.org.uk/covid19/ 29/04/2020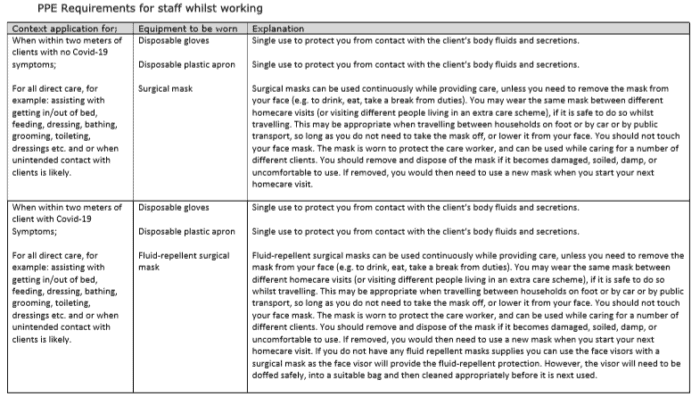 Please watch the YouTube video re donning and doffing your PPE; https://www.youtube.com/results?search_query=donning+and+doffing+ppe
29.04.2020