Dedicated care over Christmas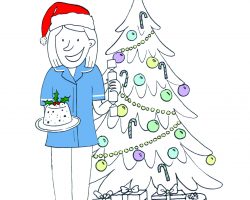 Our team of dedicated carers work over the Christmas and New Year period to ensure our clients receive the same level of care they normally do and to spend time with someone who may be lonely or sad at this festive time.
The care coordinators spend couple of months prior to Christmas planning how to achieve the ideal Christmas rota for both clients and carers. Each of our clients or their representatives are contacted with a schedule request, once they have been received a carer plan is put in place.
Many of Care Wyvern's clients pause their care over the festive season as they have friends and family visiting or simply find they are too busy and want to enjoy the season's festivities. However, many still rely on the carers to maintain their care to the exemplary level they normally have. Many of our clients are reliant on us to perform tasks that would be impossible to do themselves.
Every client is greeted with a visit, a smile, and a festive wave on Christmas day and Boxing Day from one of our committed carers. Sometimes the dedication and compassion of a social care worker and Support worker can go unnoticed, or seemingly unnoticed, so we would like to take this opportunity to thank each of our carers and wish them a Very Merry Christmas and even more special New Year
15.12.2016