Excellent review we wanted to share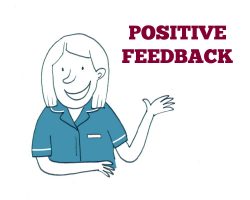 We have just received this amazing review from one of our current clients. This particular client has regular visits from regular carers to fit her needs.
"I would like to compliment Care Wyvern as they are motivational and have helped me, as previously I used to feel scared but they will give me time to talk and have discussed with me thought patterns, changing the way I think into a positive and achieving attitude.
Care Wyvern are very caring and they make me feel wanted and they are very helpful when I am ill, which is the time when I really need them.
They are more motivated to help when I am sick. I think the world of Care Wyvern"
Thank you very much Mrs D for your kind words
You can leave a review for us in various ways. Simply visit homecare , Our google page , our Face book page or simply write us a lovely email. We always love to hear how we are doing. The carers especially enjoy the feedback, in fact it makes their day.
08.02.2017