Be a Flu Fighter this winter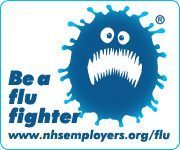 Every part of the country faces a major crisis this winter as a result of the spending squeeze in NHS, social care and public health, so will you become a Flu Fighter this winter?
Flu can be a serious illness, particularly for the elderly or those with other health conditions. Social care workers are working with some of the most vulnerable people in our communities, so it is important that they help protect themselves and those receiving care and support against flu. As well as the health impact on people receiving care and support, flu-related sickness absence puts additional strain and cost on social care providers.
Skills for Care says that all social care providers should offer vaccination to all staff directly involved in delivering care. By being vaccinated, staff protects the people they care for, themselves and their own families and communities.
The flu fighter team has developed a range of new resources to support managers' flu vaccination campaigns in care settings. The resources include guidance and campaign materials to encourage and educate staff to have the flu vaccination, thereby protecting people receiving care and support.
NHS England has announced up to £10 million to support the delivery of flu vaccines for social care workers who offer direct patient care this flu season.  This year, NHS England are providing funding for care to get a free vaccination from their GP or a pharmacy.
Which staff are eligible under the extension to this programme?
Health and social care staff, employed by a registered residential care or nursing home or registered domiciliary care provider, who are directly involved in the care of vulnerable patients or clients who are at increased risk from exposure to influenza, meaning those patients or clients in a clinical risk group or aged 65 years and over.
Where can eligible staff get their vaccination?
Most community pharmacies and many GP practices will provide the vaccinations. It is recommend that staff contact their community pharmacy or GP practice to check they are providing the service, before attending. For GP practices, this has to be the member of staff's registered practice.
What ID should staff take to their pharmacy/GP to be vaccinated?
Eligible staff will need to take appropriate ID which shows their name and their employer such as an ID badge, letter from their e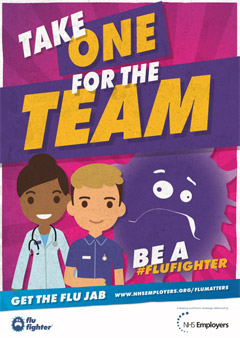 employer or a recent pay slip
Care Wyvern is encouraging all of their staff, carers, supervisors and management staff to work with the  flu fighter care campaign  get the flu jab as we believe it's vital for protecting our clients and our staff.
If you would like any information on Flu Fighters pop over to their site. You will find lots of useful and fun resources
23.11.2017