Home care is not a 9 to 5 Job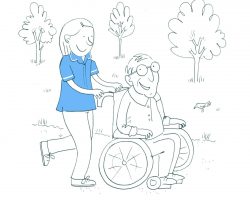 Are you looking for a 9 to 5 – Monday to Friday job – then this may not be the job for you .
However, if you want to help combat loneliness, provide comfort and make someone smile at each visit then a role as a Home care worker in Taunton may just suit you.
We are always asked if you need qualifications to be a Home care worker, and we always so NO! You do not need a degree, specific qualifications, or even previous experience to become a Home care worker. We offer all our carers the opportunity to attain their diplomas in Health and Social care up to and including level 5 as well as many different Distance learning course which you can do at your  own pace.
You will need to have the passion  and commitment to want to help people maintain their  independence so they can stay in the home they love with their pets, friends and loved ones.
You could work mornings, evenings or weekends and  work with a range of clients along with great pay rates up to £11.20 an hour.
You do need your own transport as you will be travelling around Taunton but we pay mileage and travel time, tax free. If you would like a role that will challenge you and reward you then please call Emma  or book a 15 minute telephone interview with Emma, at your convenience and ask us how
17.07.2018