Improving Somerset Employees Work / Life Balance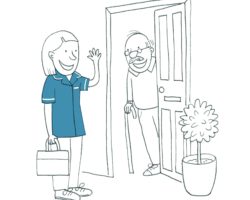 Improving Somerset Employees Work / Life Balance
Care Wyvern has launched an exciting new way of working for staff, enabling them to enjoy an improved work life balance by allowing staff to work for 9 days whilst getting paid for 10.
As highlighted in the latest two-part BBC Panorama programme focusing on care services in Somerset, and by the recent national recruitment campaign funded by the Government, the Social Care sector needs new entrants. Care Wyvern's scheme has therefore been designed to attract new workers into Social Care by appealing to people who offer the right skills and personality, yet have never considered such work, and encouraging them to move into the industry and benefit from this different employment model.
Such work is incredibly rewarding but can sometimes be demanding which is why Care Wyvern is offering its staff this imaginative benefit. We believe we are the first employer in Somerset to offer staff this chance to work a little less without losing income, enabling them to enjoy more leisure time doing the things they love with friends and family.
To qualify for the bonus 10th paid day staff will be required to work 9 days comprising 7 weekdays and 2 weekend days every fortnight. Positions are available for staff choosing to work PM shifts from 1600-2200 or AM shifts from 0700-1400. We believe these shifts and the innovative working model could prove especially appealing to people who are currently employed in many different sectors, but in particular hospitality, retail, catering, pubs/bars and warehousing/distribution.
Ru Newman, Managing Director of Care Wyvern says 'Working in Social Care is incredibly rewarding but can sometimes be demanding which is why we are offering staff this beneficial new way of working. We believe we are the first employer in Somerset to offer our staff the chance to work a little less without losing income, thereby enabling them to enjoy extra opportunities to do the things they love and to spend more time with their friends and family.'
If you have an interest or would like to find out a little bit more contact Kayleigh on 01823 325554 or jobs @carewyvern.co.uk for an informal chat or pop into our offices in Central Taunton. Your new career with a perfect work life balance could be just around the corner
24.06.2019