Interview with a Carer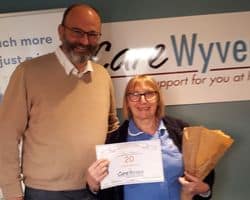 Clare spoke to one of our longest service carers, Jayne today . Jayne has been a carer 20 years and we thought it would be great to hear what she thought about her time at Care Wyvern (and beyond)
Clare: Morning, Please introduce yourself to our readers.
Jayne: Hello my name is Jayne and I'm a carer at Care wyvern. I have been here 20 years
Clare: 20 years! Wow that's amazing.
Jayne: Thank you. I've worked for the company since 2003 with Bob and Christina before Ru and Kerry bought it (Owners)
Clare: How do you feel about your work at Care Wyvern?
Jayne: I genuinely love my work and I dread the day when it will end. It feels much like a family and I feel like part of the furniture.
Clare: You must know all the carers well?
Jayne: Yes, but I'm sure they think I'm potty, I probably am. But I love what I do and the clients are great.
Clare: What's your average day like?
Jayne: I do early start in the week now but I've don't my fair share of days, nights and weekends. There where nights I didn't get home till 11.30 making sure my clients were safe and happy.
Clare: What do you think of the Care Wyvern?
Jayne: The company has been pretty good to me. Ru and Kerry are pretty good bosses who I can talk too easily. They will help out when they can. I have a strong opinion so like to express mu opinions and they listen and act upon things I say.
Clare: What do you think about the office?
Jayne: I like the personal feeling in the office. I often pop in for a chat or pick up forms or PPE ( personal protection equipment )that I need and the kettles always on if I fancy. I was presented a certificate the other day for my 20th year work anniversary.
Clare: How do you feel about your clients?
Jayne: Oh, I've shed a tear with and for my clients and I've laughed with them too. I do love my clients, they are special people. I feel privileged to support them every day.
Clare: Thank you so much Jayne, its always a pleasure chatting with you. We are lucky to have someone as dedicated as you at Care Wyvern.
Jayne: Thank you for chatting with me, right I'm off to visit my next client. Have a lovely day
If you are inspired by Jayne and her journey, then call Emma for an informal chat.
Our care professionals are paid £8.50-£11.20 per hour when they join us . They also receive mileage for using their own car at 31p/mile, travel time,birthday off every year and a carer referral bonus. We also offer 28 days holiday( pro rata) so you get your time off. Working one weekend on and one off is part of the nature of care work, but we give staff a regular day off each week to stop you working long stretches.
Call Emma on 01823 325554 or book yourself or book an informal 15 minute at your own convenience . We are looking forward to hearing from you soon.
24.01.2019