Introducing Jill, Care Supervisor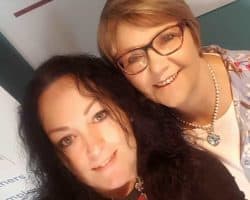 We would like to share some wonderful news. Jill has been promoted to Care Supervisor.
You may recognise Jill from our Job page?
Jill has been with Care Wyvern almost 5 years, proving to be popular and professional member of staff. We are incredibly proud of her achievements especially of this promotion to Care Supervisor.
Jill came to Care Wyvern feeling very unsure of herself but with support and training she soon completed her Diploma in Social care level 2 and showed an aptitude towards care and supporting for her peers. Jill's passion to learn soon had her completing her Diploma in Social care level 3 and she has now started working towards her Level 2 in Team Leading
It's a great feeling when we are able to promote a member of the team, knowing that the training and support that we provide has given them the confidence to push forward with their career choices. Not only do we provide a comprehensive Induction session for all new successful applicants followed by several shadowing sessions but we offer support, supervisions and new carer support meetings both in the field and in the office throughout the carers first 3 months. This time is vital as they are working towards completing their care certificate.
The care Certificate covers:
Understanding the carers role
Personal development
Duty of care
Equality and Diversity
Working in a person-centred way
Communication
Privacy and Dignity
Fluids and Nutrition
Dementia and Cognitive Issues
Safeguarding Children and Adults
Basic life Support
Health and Safety
Handling Information
Infection Prevention and Control
Part of Jill's new role is to support and supervise the carers to complete their care certificate by proving they are competent and can perform all the standards of the care certificate to the best of their ability, with the support of the Training Manager.
Once the carers have completed their care certificate and their probationary period they are offered the chance to start their Diplomas in Health and Social care, if they don't already have it. We have the pleasure of working with Hudson training for all our Level 2 and 3 Diplomas in Health and Social care. All our office staff have a Level 5 in Leadership and Management. We believe training and education is essential when providing support to our carers. Not only does it provide sound knowledge and expertise but it also allows our carers to feel confident in their ability to care and support their clients on a daily basis, knowing that they have the skills that they need and want to do their job.
But most importantly, our clients know that each time a carer visits with them they can feel assured that they are receiving the best care possible from trained staff who value their choices, safety and comfort.
Congratulations Jill, we have no doubt that you will do a fabulous job as Care Supervisor supporting our clients and carers.
01.10.2018