Megan completes her Diploma in Health & Social Care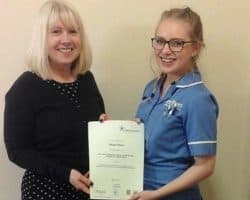 Last week we shared how several of our Social Care professionals completed their Intermediate Apprenticeship in Adult social Care, which includes a Diploma in Health & Social Care (For Adults) and a certificate in Preparing to work in Adult Social Care, with Hudson Training. Well this week we managed to grab a photo of the girls with Tina.
Megan is one of our Key Workers, working alongside Mira to provide support to our Social care professionals. She is new to the role, although has been with Care Wyvern since 2015. Megan came to Care Wyvern with no experience within Care but soon proved what an invaluable member of staff she was. Megan was recently nominated for Outstanding Care/Support Worker- Tim Catley-Day Award at the Care Focus Care Awards 2017.
They all worked very hard over the last year to achieve their diplomas/apprenticeship, whilst providing excellence care and support to our clients.
The course includes areas such as:
Communicate and complete records for individuals
Support the health and safety of themselves and others
Developing knowledge and practice
Ensure their own actions support the care of individuals
Equality and Inclusion in health, social care and young people settings
Principles of safeguarding and protection in health and social care
Communication in health, social care and young people settings
Principles of Infection Prevention and control
Move and positioning of individuals in accordance with the care plan
Understanding and enable interaction and communication with individuals who have dementia
The knowledge that they have gained whilst working and working through the apprenticeship is invaluable not only for self-development but also for the safeguarding of each of our clients. Care Wyvern has always actively encouraged self-development, through external training providers as well as our own in house training manager. In fact, Laura, Megan, Natasha B, Jill, and Nikki B have all gone onto working towards their Level 3 in Health and Social care. It is not just the carer staff though; Dianne, Emma S, Jemma, Emma H, and Mira are also studying toward different qualifications.
Well done girls, you have all worked very hard.
20.04.2017