Why we offer more than Zero Hour Contracts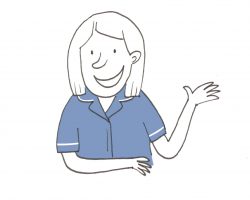 There was an article recently unveiled by the Welsh Government about its plans to curb zero hour contracts and protect care time in the social care sector. Under the new proposals , employers will need to offer care home workers on zero hour contracts the choice to moving to a minimum hours contract after three months of continued employment, if there is an ongoing demand for the work.
You may be wondering why we have mentioned this particular article. Well let me tell you why! Care Wyvern strongly believes that in order for its staff to feel valued, secure, and happy at work they must be supported with a fair deal within their employment. Therefore, we offer several different contracts.
Zero Hour Contracts
We offer the zero hour contracts to all our staff and find that many prefer to stay on this contract as it allows them flexibility. Many of our carers have families and other commitments that they base their availability around and the zero hours contract allow them the choices they want.
Guaranteed Hour Contracts
We introduced guaranteed hours contracts to all our staff fairly recently too. These contracts gives the carer a sense of security, knowing how many hours they are being paid for week by week so they can plan accordingly but also allows us to place the carers where they are needed the most. Doing this also ensured our clients received a greater level of care and support and regularity. The carer can always work "overtime" by giving extra availability and the Care coordinators plan care calls into that schedule as the work comes in also.
Salaried Hours Contracts – Full & Part time 
We recently launched our Salaried Social Carer contract. This has proven to be very popular to both existing staff as well as new applicants as it offers a set shift pattern over a rolling 4-week pattern with a salaried wage. I am sure you will agree this is a unique opportunity in the social care sector and one we know will grow and develop within Care Wyvern. We are working on building the first team of six carers within this pattern, who will all be salaried. Once that team is established we strive to build more teams, offering the opportunity for more stability and consistency within our carer's lives.
Not only do we offer these different contracts, aimed at meeting a wide range of needs but we also pay our carers for their travel time in between care contact time, as well as paying them a fuel allowance.
Being a social care worker is such a rewarding job, but it is not without its challenges and we realise that without the dedication of our staff, we wouldn't have the reputation that we have nor would we be able to support and care for the people we currently have. Maybe even more importantly, without a happy workforce we may not be able to accept and support the new clients who call us day by day and is this not the key for growth?
12.07.2017