We're Proud to be part of Proud to Care South West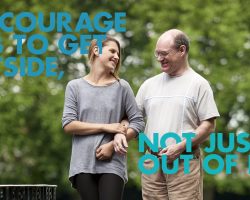 Proud to Care South West is a partnership of 16 local authorities and Health Education England working together at a regional level to raise the profile of a career in care and health.
"Jess loves her role as a support worker; it's hard work but the rewards are brilliant.
Jess decided she wanted to support adults with learning disabilities. With no qualifications in this area, Jess was keen to begin training and completed a level 2 Apprenticeship during her first year of employment.
One of the people Jess supports is Rob. Jess finds it really rewarding supporting Rob to live as independently as possible and to have the confidence to be part of his local community"
Jess is one of the many care and support workers that are making a real difference to people's lives. Could you be Proud to Care too?"
What do we want to achieve?
Establish a regional approach to raising the profile of care
Encourage positive thinking and reaction to care and care giving
Recognise the value and commitment of carers and care workers
Attract and retain high calibre applicants to caring roles and care careers in the public, private, voluntary and independent sector
Develop career pathways in care and health to attract, retain and develop high quality people in the sector
Let's get over 500 supporters for www.proudtocaresw.org.uk (Official Launch – 9 am on Thu 20 July 2017) on social media. Please click on the Thunderclap link to sign up your support now and email the campaign URL (http://thndr.me/40SFIn) to colleagues, partners, providers and friends to sign up before the Official Launch.
You can follow Proud to  Care South West on their Facebook page for up to date information.
It's so easy and takes less than a minute to sign up! We have pledged our support, will you? Find our latest jobs at Proud to Care Somerset
21.07.2017