Top tips to succeed in Job Interviews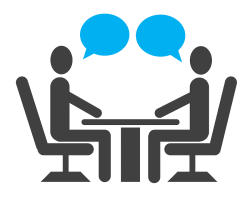 So you've decided on a change, you're about to launch your new career but you're feeling nervous about the interviews. We've put together a few tips to help you at the interview stage.
First impressions
This is the most obvious but maybe over an looked one, – first impressions count! You need to smile and make sure you have a firm handshake; no one appreciates a floppy hand shake. Eye contact is vital so keep your gaze just a few seconds longer than usual, try not to let your eyes wander around the room. Nothing is more interesting than your interviewer.
Questions and answers
Let your interviewer lead the interview but remember that you don't have to wait until the end of the interview to ask questions. While they're telling you all about the job and the company, questions from you at this point will emphasis your interest in the position. They may start with the question "Tell us about yourself and your experience, and why you think you would be the best candidate for the job". It would help to have a short "speech" prepared so you feel confident, this is one of those times your mind can go blank. Give examples of your transferable skills and show how these will help you with aspects of the job.
Your turn to ask the questions
Have questions ready to ask. It's really important that you ask relevant questions about the job, the company, and your prospects within the company. It shows you are enthusiastic about the company and what they want to achieve. It's common to experience a feeling of dread at this point; worrying that you won't have a killer question to ask at the end but try not to over worry as it only distracts you from the interview process. If it does happen just let it go! Just remember to let the interviewer know that you were keen to ask a particular question, but they had already answered it. It will also serve as a recap and you might be able to think of something else related to it on the spot.
Preparation
Before the interview (not the night before) you should consider how you handle the situation. A common question from an interviewer will be "What are your strengths and weaknesses"? Have some idea of how you will answer this. They want to know how you would handle emergency or stressful situations.
Figure out what your strengths and weaknesses are – you need to be able to say what you're good at and what you're not so good at.  It would be great to say how you overcame those weaknesses, for example speaking in a group of people; maybe you have attended a course on public speaking and are now much better at it!
Your reasons for wanting the job
Ask yourself why you want this job because you'll likely be asked this on the day. Only you know the answer and you need to make it a good one. Just because you need a job isn't a good enough reason for someone to hire you! Are you interested in a long-term career or is this simply a stopgap for you? They might ask you where you see yourself in 6 months' or 5 years' time – how will you answer this. There are many people looking for work so why should this employer hire you?
Dress Code
Dress professionally. Generally jeans and t-shirts aren't deemed as suitable for interviews and give the wrong impression. Of course, this may not apply if you're applying for job in a fashion store but for a professional career position.
Be enthusiastic!
The interviewer has invited you in as they think you may have what they are looking for, now is the time to make that clear. What can you bring to the company? How can you help the business grow? Do you believe you can? Even if you don't tick all the boxes for the job criteria, I'll bet you have something just as good or even better to offer. Don't be negative about a past (or present) employer, working conditions etc., as this will give a really bad impression. Try to show that you are flexible and willing to take on responsibility.
Timing is critical
Whatever happens don't be late!  Arrive 10 minutes before – and if you're too early then take a walk around the block. It's just as irritating to your interviewer for you to be very early than late. They may well have other appointments and may not be ready for you. Just don't leave it until 5 minutes before the interview is due to start, you don't want to arrive flustered and tense.
Presentable paper work
Make sure any paper work you have with you is presentable. Coffee stains on your references give a bad impression.
The evening before the interview
You may be nervous the night before after memorising all your strengths and weaknesses', why you should be hired and making sure your outfit and shoes are sparkly and clean but try to take some time to relax. A good night's sleep will make you feel sharper and ready for those difficult questions. So good luck with your new career
11.10.2016