Introducing Holly, Administrative apprentice extraordinaire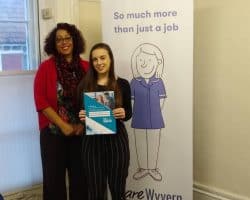 A big congratulations to Holly who has just joined Care Wyvern as an Apprentice Administrator. Holly recently decided that the 'traditional' college route wasn't for her and chose to look for an apprenticeship. Holly is pictured with Care Wyvern's Business Development Manager – Emma Symonds. 
Holly chose to become a business apprentice in order to gain work experience within the office and to challenge herself with such a fluctuating role. She specifically chose Care Wyvern as she has had grandparents who have previously received domiciliary care so is an organisation close to her heart.
She hopes to achieve her Level 2 Diploma in Business Administration (QCF) during her time at Care Wyvern which we hope will lead her to stay with the company and develop her career as a Business Administrator.
So what is an apprenticeship?
In a nutshell, an Apprenticeship is a paid work experience and education programme providing Holly the qualifications and experiences Holly needs to develop her career.
We are working with SS&L to support and develop Holly. Emma has been working closely to Penny Smillie to find a suitable candidate to fit in with our team. We were very impressed with the feedback we received from her interview at SS&L and then once meeting her we thought she would have the right aptitude to our busy office day.
Holly has been with us a week and is absorbing a lot of information very quickly and is handling the incoming calls really well. No doubt in a month she will have mastered it all!
21.12.2018