Kath is Promoted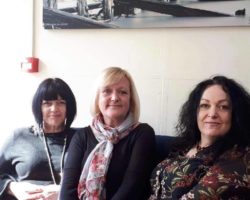 We would like to congratulate Kath on her promotion to Key Worker. Kath will be working with Tash, a fellow Key Worker and the Field Care supervisors, Jill and Naomi, to support the carers on a day to day basis. The support they give is essential as it bridges the gap that sometimes grows between carer and office.
Care Wyvern is incredibly proud of the team environment fostered by the whole organisation . We believe that we achieve this due to the dedicated staff we have and the way they are supported.
As key worker, kath will be involved in maintaining care plans and paperwork audits as well as communicating with clients, carers and the office team. Her involvement is more in depth than our wonder carers , so she, will receive a higher level of training and support to address these needs.
Kath has been part of the on call team, on a part time basis for a while, and as a result has some experience in how to handle the more complex situations that may arise. We have no doubt that with her natural aptitude towards problem solving and with the support from her team mates, that she will be a great addition to the group.
Kath will continue be involved in our mentorship programme providing support, knowledge and guidance for our new staff, especially those who are in the orientation stage.
If you feel you would like to be part of Care Wyvern's team call us on 01823 325554 or book an informal 15 minute telephone chat, at your own convenience, and find out what we do, who we work with and what shifts we offer.
It could be the best phone call you make this week

Care Wyvern… So much more than just a job!
25.03.2019